Bahar

Hits: 11928
What Equipment is needed for the production of concrete blocks
Beyazli Group a Turkish factory offers a precision-engineered range of concrete block making machines that are known for their smooth operations and long working life. These machines are designed by our experienced engineering team under international industrial standards. Our machines are further used to manufacture a wide variety of concrete blocks, hollow blocks, paving blocks, interlock bricks.
These machines are multifunctional and can be used to produce hundreds of kinds of concrete blocks. You will only need to change the mold. (By the way, this operation is very functional.) The replacement of the mold is very easy and convenient.). You can produce concrete blocks, bricks for urban construction, colored concrete bricks for paving sidewalks and paths, square bricks, natural eco-friendly bricks, complex blocks with a heater, standard building bricks, and much more.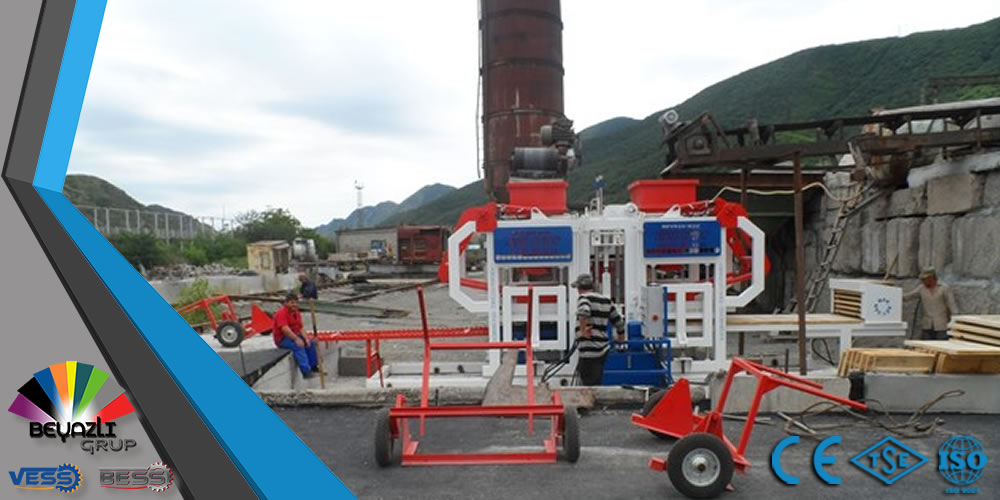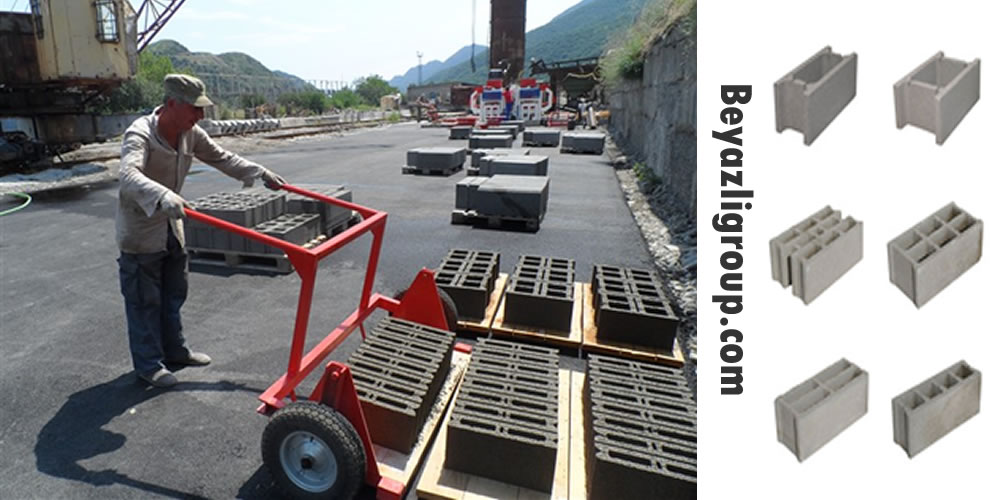 These products can be successfully used in many types of economic activities. It is widely used in gardening, paving, waterproofing, in the construction of airports, river channels, facing, paving areas, roads, docks, fringing lawns, construction, and many other purposes.
For the production of concrete blocks, cement, sand, stone dust, and crumb are used, with a diameter of 3 to 5 mm. These are the most common materials for the production of all types of concrete blocks and bricks.
By mixing individual ingredients in different proportions, we can obtain different types of blocks and bricks, including hollow blocks.
Equipment for the production of building blocks or concrete blocks has a high level of automation, the machine is controlled from a single centralized control center PLC. The line works very reliably and stably, has a compact structure, convenient maintenance, high productivity, and low power consumption. All these features have made this equipment one of the most in-demand in the world market.

REQUIRED EQUIPMENT

8 m³ SINGLE COMPARTMENT AGREGA HOPPER (BOTTOM VIBRATION)

CONVEYOR BELT ( 8.5 mt x 0,50 mt x 8 mm ) (FIXED)

CONVEYOR BELT ( 8.5 mt x 0,50 mt x 8 mm ) (FIXED)

0,25 m³ PAN MIXER(BOTTOM TRANSMISSION-ABRASION SHEET METAL)

MIXER OPERATOR PLATFORM

4/12 SEMI AUTOMATIC MORTAR SYSTEM ELECTRIC UNIT

CONVEYOR BELT ( 7.5 mt x 0,50 mt x 8 mm ) (FIXED)

PRS 400 CONCRETE BLOCK MACHINE SEMI-AUTOMATIC (SINGLE HOPPER )

MACHINE OPERATOR PLATFORM

4/12 SEMI-AUTOMATIC MACHINE HYDRAULIC UNIT

4/12 SEMI-AUTOMATIC MACHINE ELECTRIC UNIT

PRODUCT OUTPUT CONVEYOR (ROLLER SYSTEM)
The general process of producing concrete blocks is as follows:
The mixer is loaded with cement, sand, stone crumb with a special loader

This mixture falls on a conveyor belt

And then directly to the machine for the production of blocks. It forms and moves blocks

After that, the ready-made wet products go to the elevator

And finished products are transported to the warehouse
These machines are divided by their capacity and automation levels. Below is our starter pack machine Vess Eco 4.1 semi-automatic concrete block making machine. It is designed for startups with a limited budget. Installation of this machine is also simple, the customer can do it himself or we can send an engineer free of charge for installation of the machine. If you need further details about concrete blocks and how they are produced you can read the article Concrete Block Machine For Sale.
You can also visit Vess youtube channel for video references.
For further details, you can contact our English department. Right now this machine has a special sales campaign.