CONCRETE MIX PLANT - HOLLOW - PAVING BLOCK - CURBSTONE MACHINE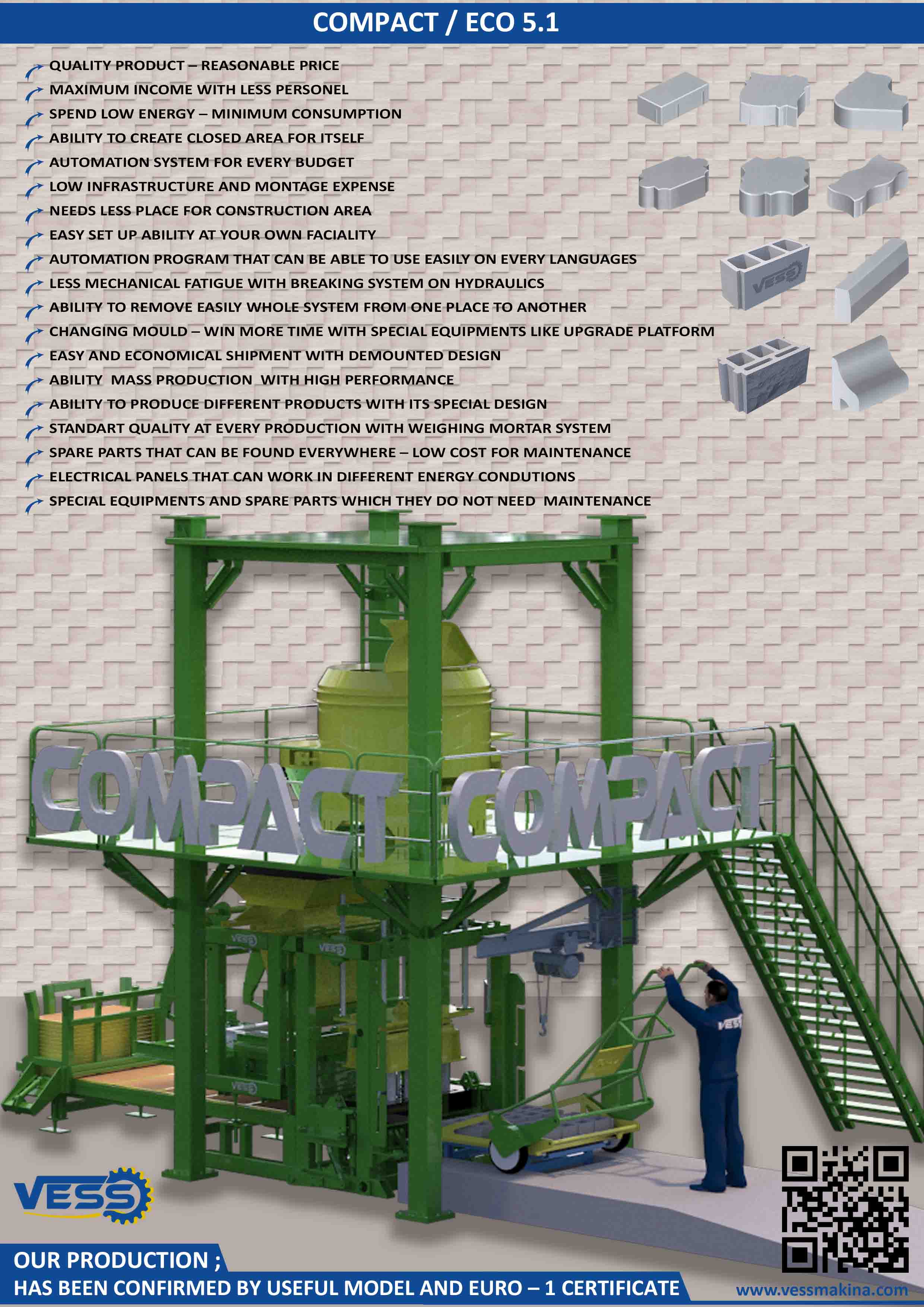 Description Of Eco 5.1 Semi Automatic System
With Single Mortar Hopper - Semi Automatic System - Manual Pallet Carrying System - Fully Automatic Mortar System (Without Hopper And Cement Silos) - Daily Capacity 5.000 Pieces 20 Cm Of Hollow Blocks - 15 m3 / Hour Ready Mix Concrete - Max. 1 x OT Container Machine Shipping Volume - 55 m2 Construction Area - Totally Needs 22 Kw Energy - 55 X 115 Pallet Dimensions And It Is An Ideal Machine That Can Be Able To Produce With Max. 6 Persons - Designed To Work 24 Hours. Through Special Vibro Motors Machine Can Produce Every Stones Which Heigh Between 2 / 25 Cm. Also You Can Choose Up Versions Like Classic - Elegance - Avantgarde Or Laying Diamond Instead Of Eco 5.1.
Why Compact ?
You Do Not Need To Buy More Machines Anymore If You Are Planning To Produce Different Products. With The New Generation Compact Machines
Required Things For Construction: We Are Providing The Chance For You To Make Products Such As Ready Mix Concrete - Asmolen - Concrete Blocks - Paving Blocks - Garden Blocks And Other With The Same Machine. We Provided New Solutions With The Model Of Compact Machine Developed By Our R&D Department To Face Problems Created By Other Manufacturing Companies In The Required Sector. We Developed The Machine Compact Model With Special Feature. When Buying The Basic Model Of Compact Machine Without Exceeding Your Investment Budget, You Will Be Able To Upgrade Effortlessly The Machine Depending On Your Need.
Why Us ?
▶According To Established Infrastructure And Experienced Staff 24-Hour Online Support ▶Secure Trading With Fixed Price Guarantee ▶Business Terms For All Budgets ▶Easy Communication With The Customer Representative With Preferred Language ▶International Contract With Preferred Language ▶Product Supply At One Point Through Campaigns ▶On Time Production - On Time Delivery – Montage ▶Stocked And Findable Spare Parts Everywhere ▶Ability To Keep Track Of Live Production Process On Web Site ▶Ability To Keep Track Of Live Shipment Products On Website ▶Free Infrastructure Project ▶Free Commissioning And Test Production ▶Free Operator Training And Certification ▶Able To Buy With Term With Private Bank Agreements ▶Leasing And The Possibility To Trade With Letter Of Credit ▶Warranty Period Can Be Extended Up To 2 + 3 = 5 Years ▶We Guarantee That Intervene Time Globally Is Maximum 72 - 120 Hours.
ECO 5.1 - OUR MOULD SAMPLES
TECHNICAL SPECIFICATIONS
TECHNICAL SPECIFICATIONS

Mortar Hoppers And Capacity
Single Hopper / 1 m³
Hydraulic Oil Tank Capacity
80 L
Control System
Semi Automatic
Hydraulic Pressure
120 Bar
Mortar Control System
Fully Automatic (Measurement)
Hydraulic Motor Power
7,5 Kw
Upper Vibrator Motor Power
0,37 Kw (Optionally)
Total Power Usage
22 Kw
Lower Vibrator Motor Power
0,65 Kw x 2 Pieces
Min - Max Product Height
2 cm - 25 cm
Vibration Cooling Capacity
22.000 Kcal
Wooden Pallet Dimensions
55 x 115 x 5 cm
External Chassis Dimensions
100 x 150 x 5 mm Closed Profile
Production Capacity
100 - 120 Pallets / Hour
Machine Dimensions
230 cm x 730 cm x 250 cm
Weight
6.200 Kg