Vess Machine which is under the name of the company Beyazli group, has been manufacturing Concerete Plant following and analysing the technology of machines and submiting new solutions to you according to needs of sector since 2007 up to now. Our Concrete Plants which we have manufactured,they have changeable specialities can be developed and optimized in order to meet the needs of our customers in every period of time.The Prices Of Concrete Plants vary to needs of our customers and it has been manufactured different automation and capacity. Cost of the concrete plant machine according to the prices of second hand concrete plant has been submiting more profitable options to you when it has been evaluated as quality. The concrete plant and equipments of which our compnay has manufactured have durable and 2 years guranteed
What Is The Concrete Plant?
This is the system to make concrete from mixture of aggreate,cement,water and concrete additives with specific ratio.
A cocrete plant can have variety of parts, including but not limited to:
1. mixer, 2. cement bathers, 3. aggrigate bachers, 4.conveyors, 5.radial stackers, 6.aggrigate bins, 7.cement bins, 8.heaters, 9.chillers, 10.cement silos, 11.batch plant controls and 12.dust collectors.

How Does The Concrete Plant Work?
System starts operatıon wıth doing dosage. electronic weighing belt under the hopper weigh the aggregates and take them on the belt. In the same time the cement,water and additive weighing operatıon made in their special region. In the second part , the dosaged products transfers the mixer and starts mixing. In the last part, ready mixture transfers to transmixer under the concrete batching plant sending hopper this operation finishes With loading of requested volume of concrete.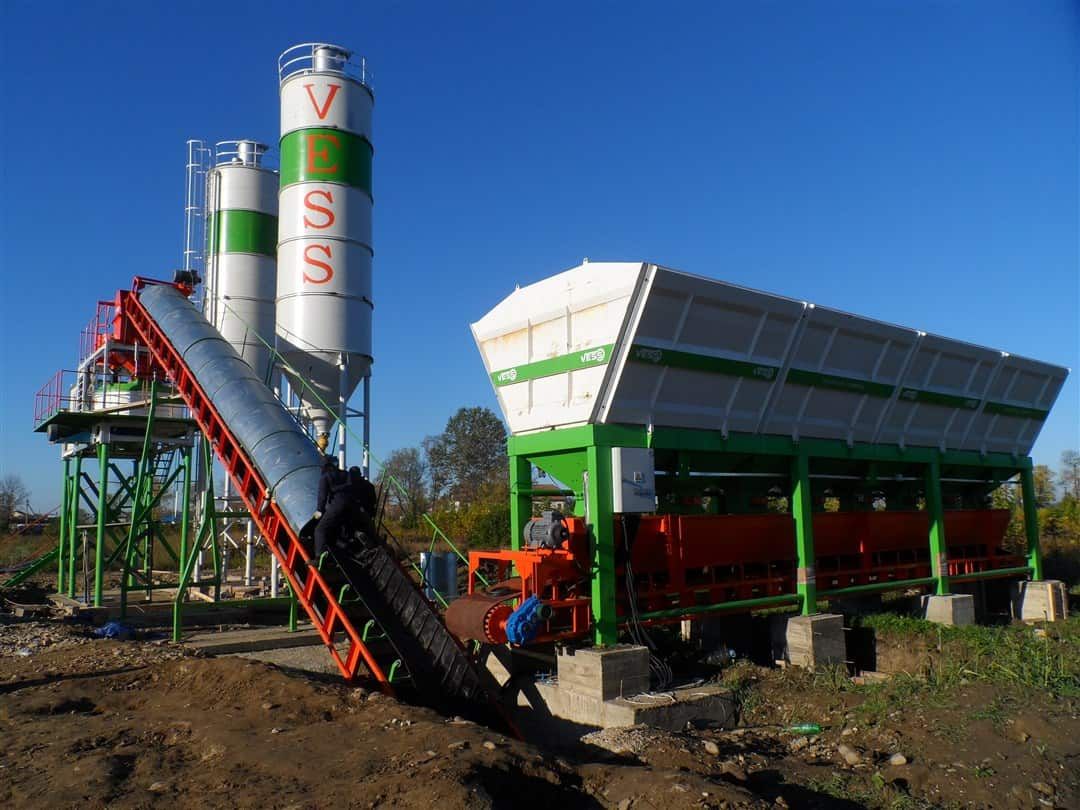 Our company's accumulations of 10 years experiences its opinions obtained from customers proved that is the leader company of the sector by producing compact series machines by combining with concrete plant and hollow-paving block machines according to needs of the sector.
The Compact Series Machines are designed as special which manufacture Paving Block, Hollow Block, Curbstone, Asmolen, Lawn Stone and Ready Mixed Concrete.
The Compact Machine which can be improved with special has a lot of adventages compaired with Concrete Plants, Paving-Hollow Block Machines.Compact machines provides to using the production of machine area more efficiently by Paving and Hollow Block Machines,Silo and Mixture Mixing machine with special production as stand and over positioning in order to minimize the machine area.

The most important advantage of compact machines is they can work with low energy.The required equipments with over positioning to produce Hollow Block and Paving Block in order to prevent the loss of time due to workers which will make production is minimized .Also the time which lasts because of reaching agregat and mixture to machine hopper is minimized.
You can click on links to reach other articles Paving Block Machines, Crushing And Screening Plants And Hollow Block Machines.