Hessam

Hits: 2530
Brick and Block Making Machine Types
There are many brick and block making machine types all over the globe. Vess manufactures upscale and high-quality Brick and Block making machinery with intelligent technology for its customers as a model enterprise of Turkish building material machinery. Vess has served 1000 clients from 32 countries and regions over the years and has earned a great reputation in the world with its products being exported to high-level markets worldwide, including Asia, Europe, South Africa, and Arabic countries.
Brick and block making machines are produced in different types and automation levels. Based on your project you can choose the best machine. Consider that choosing the most expensive machine doesn't guarantee that you have the best machine. there are other factors that you need to consider.
1. The capacity you need per day
2. Numer of molds you need for your plant
3. automation level of the machine
4. The way cement is provided in your area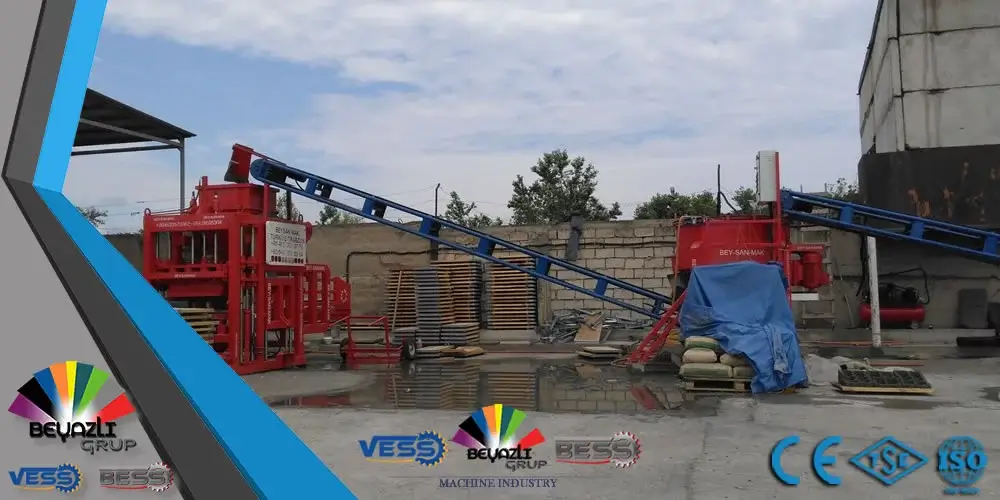 Brick and Block Making Machine Price and Specifications
The installation diagram of the block making machine is shown below. The machine is designed to work 24/7 without any need to stop but most of the customers use it for one eight-hour shift. The machine needs 1000 pallets for one shift and depending on the capacity of the machine and the size of the block you are producing the machine can produce 4000 to 10.000 blocks or 300 m2 up to 700m2 of paving blocks in a single shift. These blocks can be normal blocks or interlocking blocks.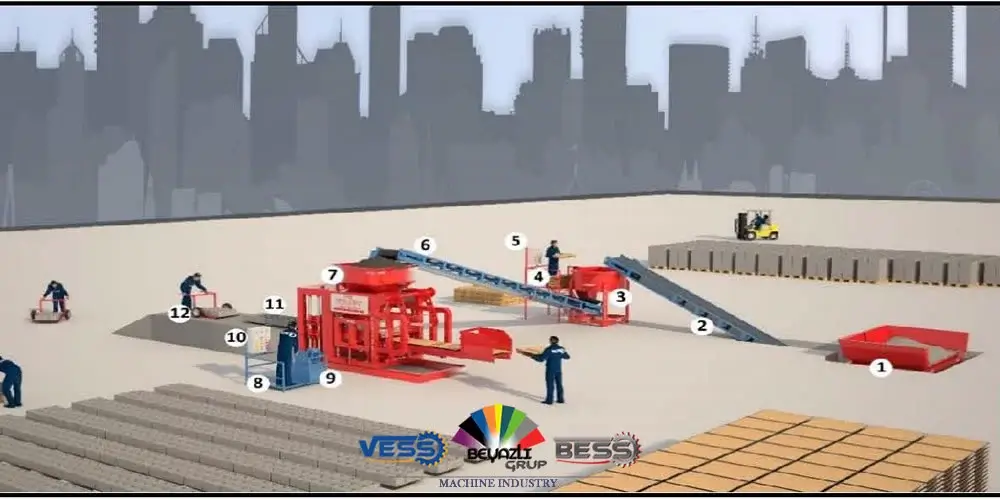 Consider that the installation diagram might change based on the brick and block making machine types.
On one pallet: 20 pieces of interlocking pavers or 8 pieces of 20cm blocks.
Pallet size: 95cm x 110cm x 4 cm
Persons for production: 6 units (1 for mixer / 1 for machine / 3 for delivery / 1 for cement).
transportation: depending on the capacity of the machine and equipment, between 1 to 4 40ft containers.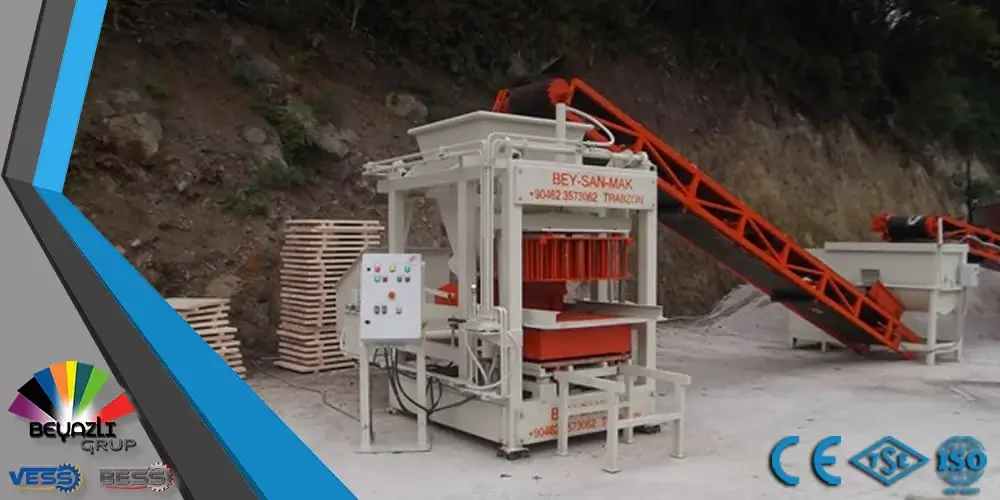 Concrete Block Molds

Our molds workshop is equipped with several advanced machines for the manufacture of high quality and high precision molds. We can, therefore, design and customize the molds according to customer requirements. We operate a full range of advanced equipment including heat treating machines and precision assembly machines.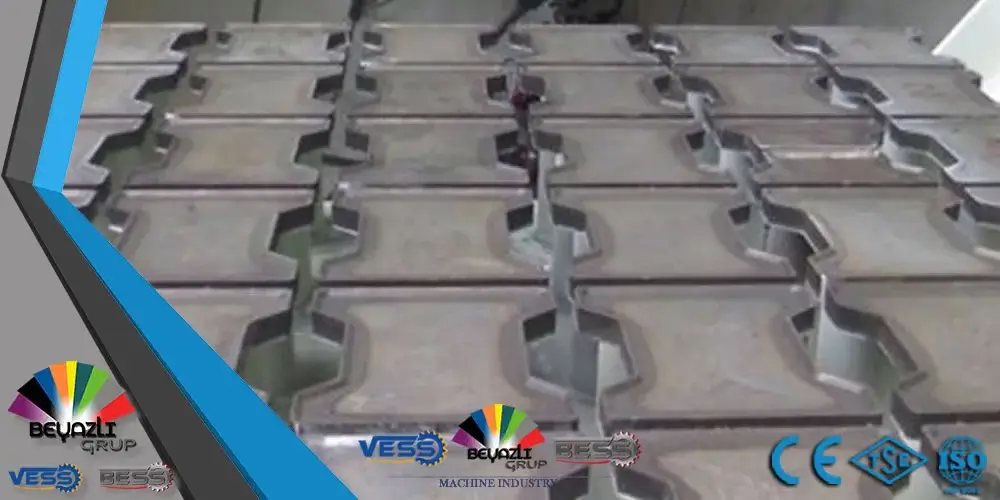 We adopt surface injection technology for high precision, an optimized pressure system, and excellent wear resistance metal sheets. Adopting advanced and innovative technical equipment, our finished production machines are able to manufacture concrete blocks of precise dimensions with a smooth surface.
Bess molds combined with our block-making equipment produce all kinds of high-efficiency concrete products, concrete blocks, pavers, hollow blocks, solid bricks, bricks of special sizes and shapes.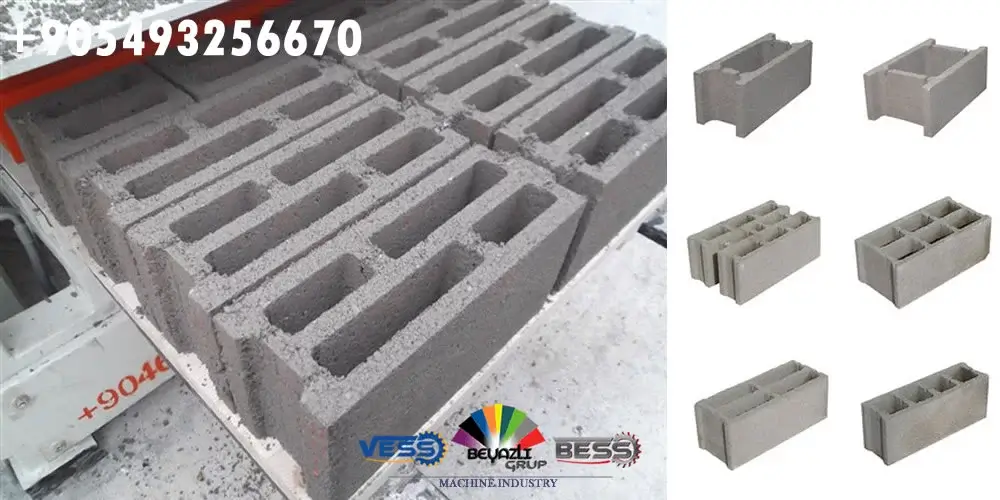 Advantages:
1. We adopt high-quality materials, low variance, and excellent wear resistance.
2. Excellent wear resistance maximum accuracy.
3. Intelligent welding robots for the global production of high performance and high efficiency.
4. Optimized heat treatment machines extend the workpiece structure and increase the service life to more than 100,000 cycles.
5. The mold frame perfectly matches the press head, resulting in low loss, high-speed feed, and quick and easy demolding.
6. Thermal device greatly improves the performance of the molds.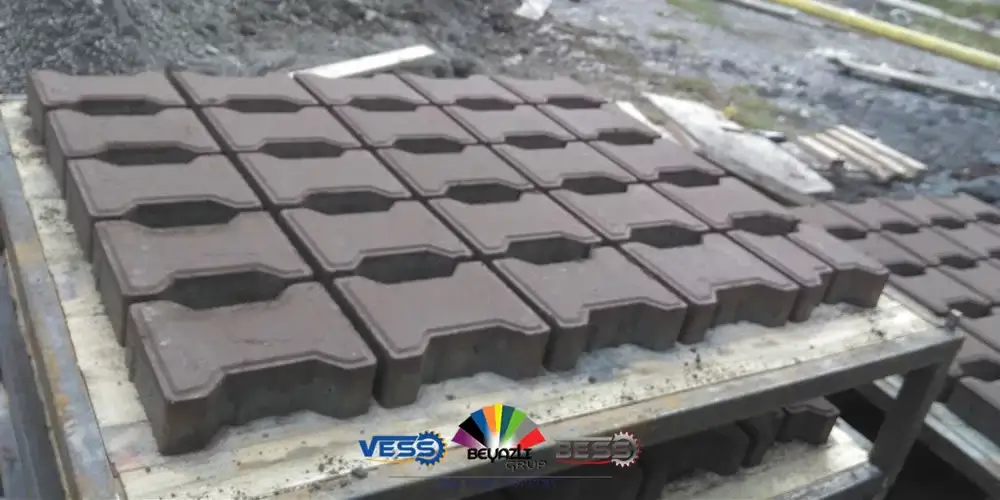 Conclusion
---
Vess company offers different types of machines for different projects and Budgets. Vess has more than 17 Years of experience in this sector and has installed machines in more than 32 countries. If you don't know which machine is the most suitable machine for your project, you can contact us anytime to ask for professional advice. We have Semi-automatic machines with low capacity for small businesses and also fully automatic high capacity machines for bigger projects as well.