---
Before introducing a solid block making machine let's know what is a solid block and its usage in construction.
Solid blocks are one of the precast concrete blocks used in construction. The term precast refers to the fact that the blocks are formed and hardened before they are brought to the site.
Solid concrete blocks are made of a mixture of cement, water, sand, and gravel. Now let's know the usage of solid blocks.
Solid Block Usage:
---
Solid blocks are used for load-bearing as well as non-load bearing walls.

It is also used for constructing retaining walls, garden walls, chimney, and fireplaces.

It is also used as a lintel.
Now we have some information about solid block let's know how solid blocks are being produced and how solid block machine operates.
What is a solid block making machine?
---
Solid block making machines are one of the construction equipment that is used to facilitate the production of various types of solid blocks, pavement blocks, hollow blocks, interlocking blocks, and more. By using a Solid block making machine you can produce different kinds of concrete blocks.
Something to know about solid block machines is that they all have different specifications when it comes to output rates, maintenance costs, price, running costs, automation levels, assembly times, ease of operation, etc. When it comes to looking at the different types of solid block making machines in the marketplace, you'll find hydraulic manually operated block presses, semi-automatic block making machine and fully automatic concrete block machines.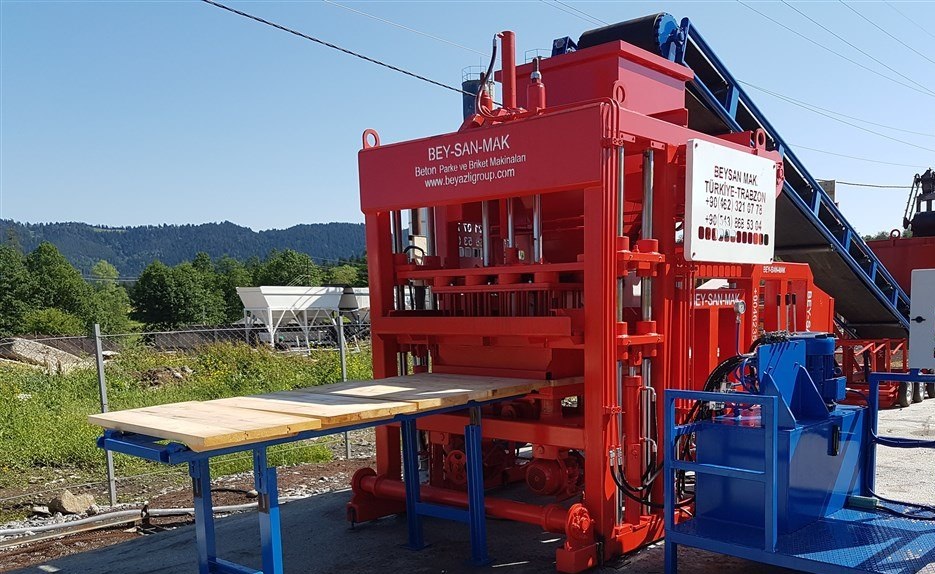 How does solid block making machine works?
---
The solid block machine is based on the principle of the hydraulic machine. It uses hydraulic oil as the working medium to complete the solid block machine's operation without any waste. It mainly consists of the main machine, a hydraulic pumping station, an electrical control system panel, and a pallet and blocks conveyor. It is able to produce composite paving blocks, solid blocks, hollow blocks, slabs, and similar concrete products. This machine meets all the requirements necessary to produce the highest quality solid blocks.
Basic solid block making machine information:
| | |
| --- | --- |
| Mortar Hoppers And Capacity | Single Hopper /0.5 m³ |
| Control System | Operator Control |
| Production Capacity | 100-120 Pallets / Hour |
| Total Power Usage | 18KW |
| Molding method | Compression, lower vibration |
| Vibration frequency | 0-60HZ |
| Wooden Pallet Dimensions | 50 x 100 x 4 cm |

Where to buy a solid block machine?
---
Our factory specializes in the manufacture and sale of various types of solid block making machines and paver block making machines.
We are a Turkish factory located in Trabzon Turkey. We have more than 10 years' experience in producing different kinds of block making machines. You can contact us by email or through our WhatsApp number; our team will give you details information about our different machines and prices.
Our factory provides technical guidance, technical staff training on-site, shipment service, and other related services. The advantages of our solid block machines are low investment, high return in investment. It is an ideal choice for manufacturers of small and medium-sized concrete products who wants to start production of solid block and another kind of concrete block.
Our services
---
Before sales services:
According to the customer's request, design, and manufacture products.
Prepare site structure and business plan free of cost.
Accompany with users to complete equipment acceptability testing and to assist in designing the construction scheme and detailed process.
Customer Service:
We will send the technicians to the production site to install and adjust the machines as well as the training operators free of cost.
Conclusion
---
With the development of new construction technologies, the market for solid block making machines is increasing. It is important to choose a serious company with a long history and many years of experience that can be used throughout the transportation process Follow customers and provide local personnel training.