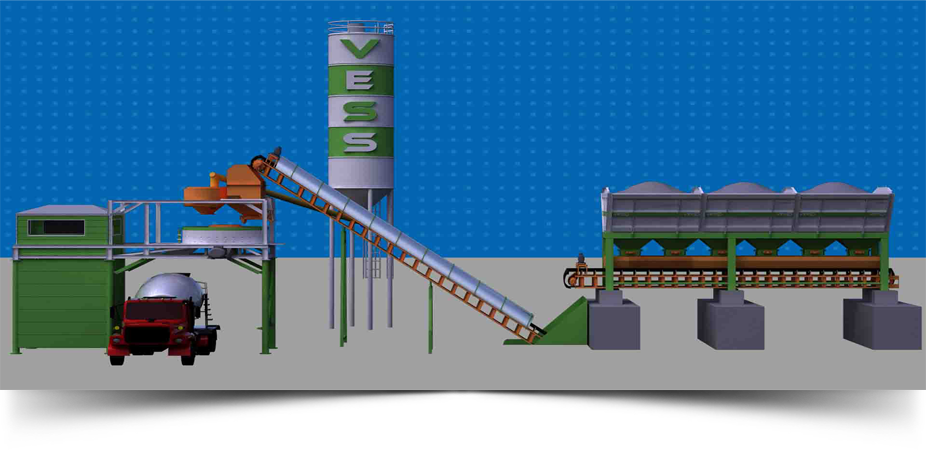 Hits: 3567
VESS 45 m³ / HOUR - CONCRETE PLANT
VESS 45 m³ / HOUR – CONCRETE PLANT: Machine is designed with fully automatic operating system. Designed to work 24 hours. This is the system to make concrete from mixture of Aggregate,Cement,Water and Concrete additives with specific ratio. System starts operation with doing dosage. Electronic weighing belt under the hopper weigh the aggregates and take them on the belt. In the same time the cement,water and additive weighing operation made in their special region. In the second part , the dosaged products transfers the mixer and starts mixing. In the last part, ready mixture transfers to transmixer under the concrete batching plant sending hopper this operation finishes with loading of requested volume of concrete. In an hour it can produce 45 m³ Concrete.
---
VESS 45 m³ / HOUR – CONCRETE PLANT : The price of the campaign is prepared as complete plant "Turnkey Project. For a plant with these features the recommended curing and stock area should be minimum 1.250 m2 There is no obligation for roofing. The prepared concrete floor should be minimum 1/5 of the total plant area.

Equipments specified in our campaign are as advisory and are stated by the sample installation layout. you can add or remove items from the list.
---
TECHNICAL SPECIFICATIONS
TECHNICAL SPECIFICATIONS

Compacted Concrete Output
45 m³ / Hour
Cement Silo Piece / Capacity
1 Piece x 60 Ton
Batch Count
60 (Quantity) Mixture / Hour
Cement Weighing

450 Kg

Mixer Dry Bulk Capacity
0,7 m³
Additive Weighing

30 Kg

Mixer Engine Power

1 x 28 Kw

Water Weighing
400

Kg

Aggregate Compartments Quantity / Capacity

3 x 10 m³

Cement Screw Conveyor
1

Piece / 219 x 10.800

Aggregate Weighing Conveyor Belt
9 mt x 60 cm
Pneumatic Air Installation
5

00 Lt / 8 Bar

Aggregate Weighing

6.000 Kg

Automation Type

Fully Automatic / Telemecanique

Aggregate Holding Hopper
1,5 m³
Shipping Volume

1 Piece Flat / 2 Pieces 40 HQ
CLICK THE LINKS BELOW TO SEE OUR DIFFERENT CAPACITIES

---