Beyazli Group is a manufacturer of manual block making machines, manual movable concrete block making machine, manually operated concrete block making machine, movable block making machine, manual block molding machine and small block making machine in Turkey Trabzon.
These machines are able to produce different kinds of Hollow Blocks, Solid blocks, Asmolen blocks, Straphored block, curbstone block.
Here I am sharing you our available different kinds of manual block making machine with details specifications and price, if you are interested in these machines you can contact us now to give you more details.
We are able to deliver our machines everywhere you are, our block making machines have two years grantee we have different payment methods for more please contact us or visit our website:https://vessmachine.com/yumurtlayan-makineler.html

| | |
| --- | --- |
| | |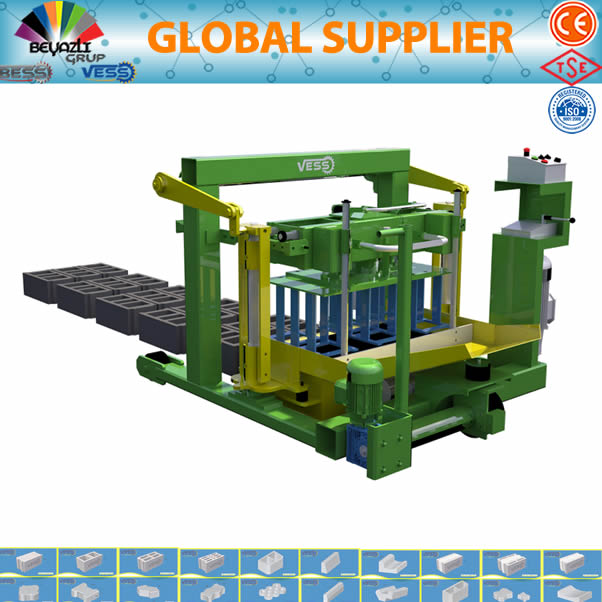 Price: 11685 Euro
Manual Block Making Machine
Personnel Number (

For Production

)
4 Person

Control System


Manual

Model
VESS 3.1

Total Engine Power


3.2

Kw

Min - Max Product Height

18-20 cm

Daily capacity (8 hours)


2250

Hollow Blocks
Designed to work 24 hours. It has a high production capacity wıth fewer employees. All kinds of spare parts can be found easily. Electric consumption is the minimum level. It can be moved and installed easily. Low noise with silent engine pumps. It does not require technical assistance for installation. Smooth surface through producing with fine aggregate. Getting with the pre-prepared mortar can produce any kind of Blocks-Asmolen-Straphored Brick And Garden Borders which are loaded on its. Daily capacity ( 8 Hours ) 2.250 Pieces Hollow Block.
Additional Information:
Pay Mode Terms: T/T (Bank Transfer), LC and other as per both side acceptance.
Port of Dispatch: Trabzon Turkey
Delivery Time: 40 days
Packaging Details: On Request
Movable Hollow Block Making Machine
Vibration Quantity


Double Vibro Engine

Control System


Semi-Automatic

Model
VESS 3.1

Total Engine Power


4

Kw

Min - Max Product Height

18-20 cm

Daily capacity (8 hours)


3000

Hollow Blocks

Vibration Cycle Time
20 Second
Total Weight

630 Kg

Electrical Cable (

Socket

)

50 mt

Production Area (

Recommended

)

480 m² (12x40 mt)

Agrega (

Recommended

)


5 mm
Additional Information:
Pay Mode Terms: T/T (Bank Transfer), LC and other as per both side acceptance.
Port of Dispatch: Trabzon Turkey
Delivery Time: 40 days
Packaging Details: On Request
High-Quality Manual Block Making Machine With Fully Automatic country System
Vibration Quantity

Double Vibro Engine

Control System


Fully Automatic

Model
VESS-3.1

Total Power Usage

4

Kw

Min - Max Product Height

18-20 cm

Daily capacity (8 hours)


3750

Hollow Blocks

Total Weight

680 Kg

Electrical Cable (

Socket

)

50 mt

Personnel Number (

For Production

)

4 Person

Production Area (

Recommended

)

675 m² (15x45 mt)
Additional Information:
Pay Mode Terms: T/T (Bank Transfer), LC and other as per both side acceptance.
Port of Dispatch: Trabzon Turkey
Delivery Time: 40 days
Packaging Details: On Request