Sahar

Hits: 1344
Rating:

( 2 Ratings )
Paving Block Machines and Concrete Batching Plants in Ivory Coast
Ivory Coast, also known as Côte d'Ivoire and officially as the Republic of Côte d'Ivoire, is a sovereign state located in West Africa. Ivory Coast's political capital is Yamoussoukro, and its economic capital and largest city is the port city of Abidjan. Cement concrete hollow blocks are modern construction materials and as such are used in all the constructions viz. residential, commercial and industrial building constructions. The construction industry is a growing sector in Ivory Coast. The demand for this product is always high in all cities and other urban centers of the Ivory Coast due to the construction of residential apartments, commercial buildings, and industrial buildings.
Cement concrete hollow blocks have an important place in the modern building industry. They are a cost-effective and better alternative to burnt clay bricks by virtue of their good durability, fire resistance, partial resistance to sound, thermal insulation, small dead load and high speed of construction. Concrete hollow blocks being usually larger in size than the normal clay building bricks and less mortar is required, faster of construction is achieved. Also building construction with cement concrete hollow blocks provides a facility for concealing electrical conduit, water, and sewer pipes wherever so desired and requires less plastering.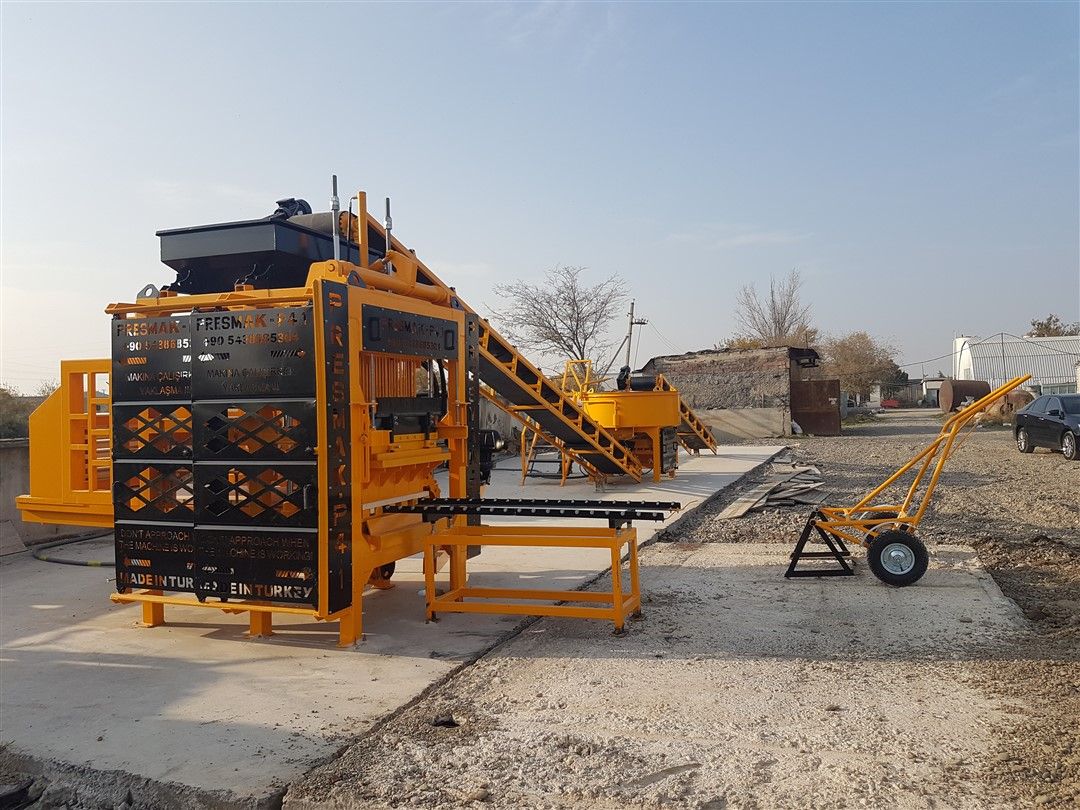 Investing in a brick and block making machine in Ivory Coast a smart decision for any business that is looking to get off the ground quickly by producing high-quality products with a low-cost. For instance, the Interlock Block Making Machine from our factory in Turkey which is a novel concept in the present construction industry. They are very cost-effective for construction since the use of sand and cement for plastering is minimized to the maximum extent possible. Once the initial purchase of the machine is made, you will find that the individual component parts are surprisingly affordable, and the profit margins can be very respectable indeed once you have everything worked out.
Of course, finding a suitable place to buy a brick and block making machine is not always easy, and it is safe to say you cannot pick one up from your local hardware store.

There are now many cheap copies in the market and many Chinese companies are claiming to be authorized manufacturers or supplying the same. This is simply not true. It is easy to copy physical features of a brick and block making machine but the know-how in how to produce quality bricks is not copied and we are seeing many bad bricks and structures in the field as a result. Many clients have purchased these fakes and either been robbed of their money or if they receive goods they do not work.
Do we Deliver Hollow Block and Paving Block Making Machine to your sites in Ivory Coast?
Yes, we deliver worldwide.
Do we offer a warranty on your equipment?

Yes, all of our products are under warranty against manufacturing for a period of 2 Years.
Do we offer after-sale services?
Yes, by possible failure the intervening time is domestic 48 hours – intervene time globally is max between 72 and 120 hours. The time schedule is not relevant for countries that are requesting an invitation for the visa.
The Other Construction Products that we can serve in Ivory Coast:



services

Supply the most current design and technical expertise; Supply parts sales and training service far beyond the initial sale; Your profits with quality parts and expert service.

+90 549 325 6670

This email address is being protected from spambots. You need JavaScript enabled to view it.