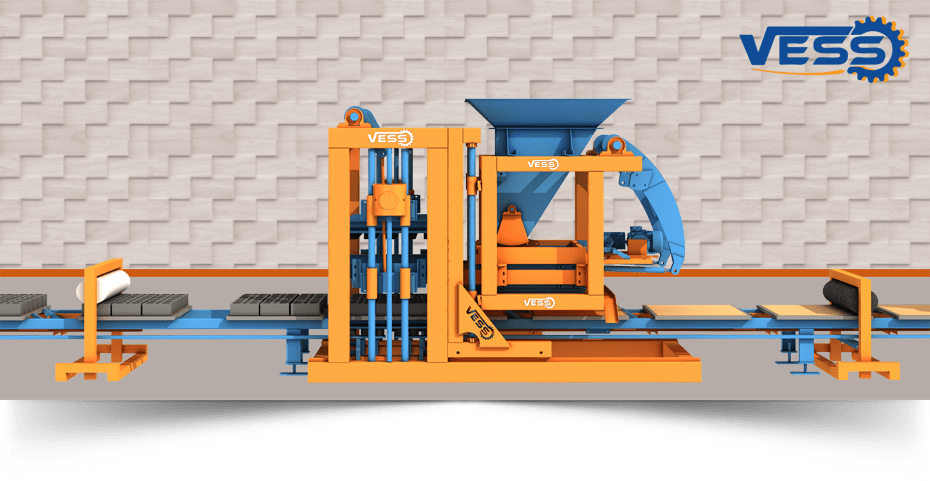 24.1 FINGER CAR FULLY AUTOMATIC MACHINE; Machine is designed to work 24 hours. Machine is very fast and has high production capacity through special servo motors. By changing the mould machine can produce any types of Concrete Paving Blocks - Hollow Blocks - Insulated Bricks – Different Curbstones – Asmolen And Chimney Blocks which height must be between 2cm and 40 cm. Equipment list with prices, prepared related to the installation layout is given below.Daily capacity (8 hours) 24.000 Pieces Concrete Hollow Blocks / 1.500m² Paving Blocks…
---

24.1 FINGER CAR FULLY AUTOMATIC MACHINE; The price of the campaign is prepared as complete plant "Turnkey Project". Except product drying and curing rooms there is no extra equipment needed on the plant area. For a plant of the with these features the recommended installation , curing and stock area is minimum 6.500 m2. There is no obligation for roofing. The prepared concrete floor should be minimum 1/3 of the plant area.
Equipments specified in our campaign are as advisory and are stated by the sample installation layout. You can add or remove items from the list.
You can create your own optimal facility without being connected to the Campaign with the help of the "Create Your Own Plant" button in 3 steps according to the request.For further information please contact your nearest customer representative.
---
TECHNICAL SPECIFICATIONS
TECHNICAL SPECIFICATIONS

Mortar Hoppers And Capacity
Single Hopper / 4 m³
Upper Vibrator Motor Power
2,2 Kw x 4 Pieces
Control System
Fully Automatic
Hydraulic Motor Power

77 Kw

Production Capacity
100-120 Pallets / Hour
Hydraulic Oil Tank Capacity

1000 Lt

Weight

26.000 Kg

Hydarulic Pressure

200 Bar

Machine Dimensions

300 cm / 730 cm / 250 cm

Vibration Cooling Capacity

22.000 Kcal

External Chassis Dimensions
200 x 200 x 8 mm Closed Profile
Total Power Usage

115 Kw

Vibration Force

48.000 Kg

Min - Max Product Height

2-40 cm

Lower Vibrator Motor Power
7,5 Kw x 4 Pieces
Wooden Pallet Dimensions

140 x 180 x 8 cm
CLICK THE LINKS BELOW TO SEE OUR DIFFERENT CAPACITIES

---